THESE STAKEHOLDERS WANT CABR TO HAPPEN – HERE'S WHY
First Nations Support
"We understand that the Government of Alberta is considering whether to proceed into the design and development of the Banff Passenger Rail Project; therefore, the Stoney Nakoda Nations should be immediately engaged on this project, even before the design phase is further underway. While the Stoney Nakada Nations have certain concerns regarding the project that should be addressed through consultation, the combination of environmental and socio-economic benefits that this project may represent are of interest to Stoney Nakada Nations, and we welcome further exploration of the concept that has been presented. This letter serves as notice that the Stoney Nakoda Nations are willing to formally engage in consultation with respect to the project with Liricon, its partner Plenary Americas Ltd., and the Government of Alberta."
Calgary Airport Support – Complimentary Rail Hub
"A rail connection between Banff and YYC Calgary International Airport is a critical way to connect travelers to one of Canada's most awe-inspiring destinations while providing long-term economic, social and environmental benefits to the region. We look forward to helping advance this transformative project."
Major Airline Support – Seamless Passenger Connections
"With this direct rail connection between Calgary and the communities in the Bow Valley, including the Stoney Nakoda Nation and Canada's flagship National Park, Calgary would be the only city in North America with a direct rail link to a world-class tourism destination. This rail system could make Calgary an ideal entry point into Canada for international visitors seeking a unique travel experience.
From our perspective, we would support such an initiative and would evaluate the possible network opportunities, as well as assess the commercial opportunities that could arise with CABR, to facilitate transfer passengers with Air Canada."
"Calgary Airport Banff Rail will help tourists and our customers seamlessly connect to downtown Calgary and to the mountains, making travel to Alberta even more appealing.
In addition to the tourism opportunities offered by the Calgary Airport-Banff Rail project, WestJet is excited by the prospect of a ten-minute commute between the Calgary Airport and downtown, the fastest of any major airport to a downtown centre in North America. This would have a meaningful impact on Calgary's business community, as the world returns to in-person meetings and work-related travel. The rail segment to Banff would also reduce car traffic volumes for those heading to the mountains and reduce overall travel carbon footprints."
Calgary Tourism Support – Provide Stop-Over Enroute To Banff Packages
Banff Tourism Support – Provide Packaged Tours
Hydrogen Economy Support – North American Flagship Project
"Hydrogen rolling stock is ideally suited for application on the Calgary-Banff Rail corridor in terms of length of alignment, alignment characteristics and capacity. We firmly believe Alberta possess all the characteristics to become the flag-bearer of hydrogen trains on this side of the Atlantic and we are very keen to help the Province realize what will be recognized as an iconic project throughout the world.
Alstom is pleased to offer the benefit of our experience and know-how to bring this project to reality for the benefit of Albertans and indeed to the many global visitors to the Province. As you may be aware, in terms of hydrogen rail technology, Alstom is the global pioneer of this technology: Alstom's Coradia iLint train was unveiled in 2016 and has been in passenger service since 2018 in Lower Saxony, Germany. Over 200,000 kilometers have been completed since the iLint's entry in service."
"As you may know, Japan has strong experience in all of the major characteristics of this proposed project, including: (i) the provisioning of efficient passenger rail links between airports, cities and ski resorts; (ii) rolling stock and systems integration; (iii) punctual operation with high customer satisfaction; (iv) the development of a hydrogen economy; and (V) the provisioning of long term competitive finance solutions. Furthermore, beyond a rail project, we are keen to bring and transfer Japan's rich experiences In over-station development, transit orientated development and smart transit related solutions to maximize economic growth in the region.
The Calgary Airport to Banff Rail Project demonstrates a strong technical and commercial underpinning. We believe Liricon/Plenary, under strong collaboration with Japanese companies including Sumitomo, would be a great choice as a development partner for the Government of Alberta. Especially if we are selected as a member of the developer's consortium, one of our advantage Is to bring a strong support from an infrastructure fund sponsored by both the Japanese Government and Japanese companies, Japan Overseas Infrastructure Investment Corporation for Transport and Urban Development."
"As a leading energy infrastructure company and a major employer of a highly skilled and diverse workforce headquartered in Calgary, TC Energy is ideally positioned to assess CABR's potential to transform the Province of Alberta and Canada in several ways, including:
Economic Diversification: The proposed direct, express rail connection between the Calgary International Airport and downtown Calgary will provide the fastest mass transit rail connection between a city airport and its downtown in all of North America. This will help to revitalize Calgary's downtown core and create an attractive destination for top talent around the world.
Environmental Leadership: CABR's potential to be North America's first hydrogen-powered, zero- emissions passenger rail system is aligned with Alberta's plans to develop the hydrogen economy and reduce its own carbon footprint. By reducing personal vehicle use in Banff National Park, CABR will preserve the ecological integrity and beauty of Canada's first national park.
Hydrogen Economy: TC Energy believes that stimulating demand for hydrogen will be a key component in the growth potential for the hydrogen economy in Alberta and Canada. Our Crossfield (Alberta) Hydrogen Project offers a production pathway to service the CABR demand and an ideal partnership opportunity. These projects present a clear opportunity to position Alberta as a leader in the low carbon economy.
TC Energy is very excited about the wide-reaching benefits of this unique project and its potential to transform the future for Alberta and Canada in the low carbon economy."
Business Community Support - P3 Model, Workforce Quality of Life, Environmental Leadership
Do You Support the Calgary Airport Banff Rail?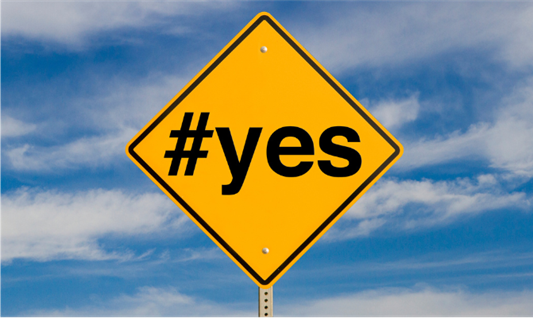 Please share with us why.
By submitting the form you agree that your message may be shared on our website and social media. You will also be added to our email list which you may opt out of at any time.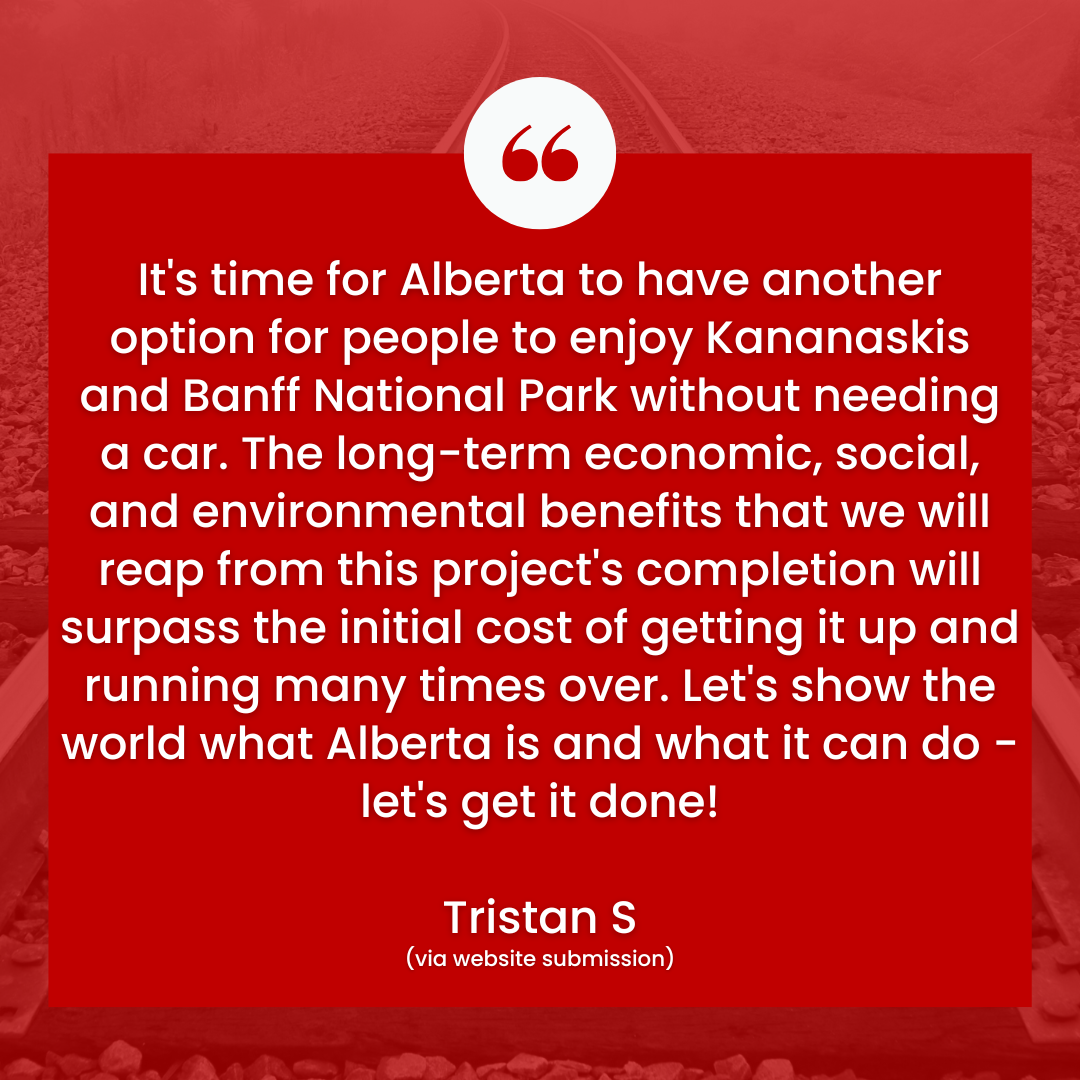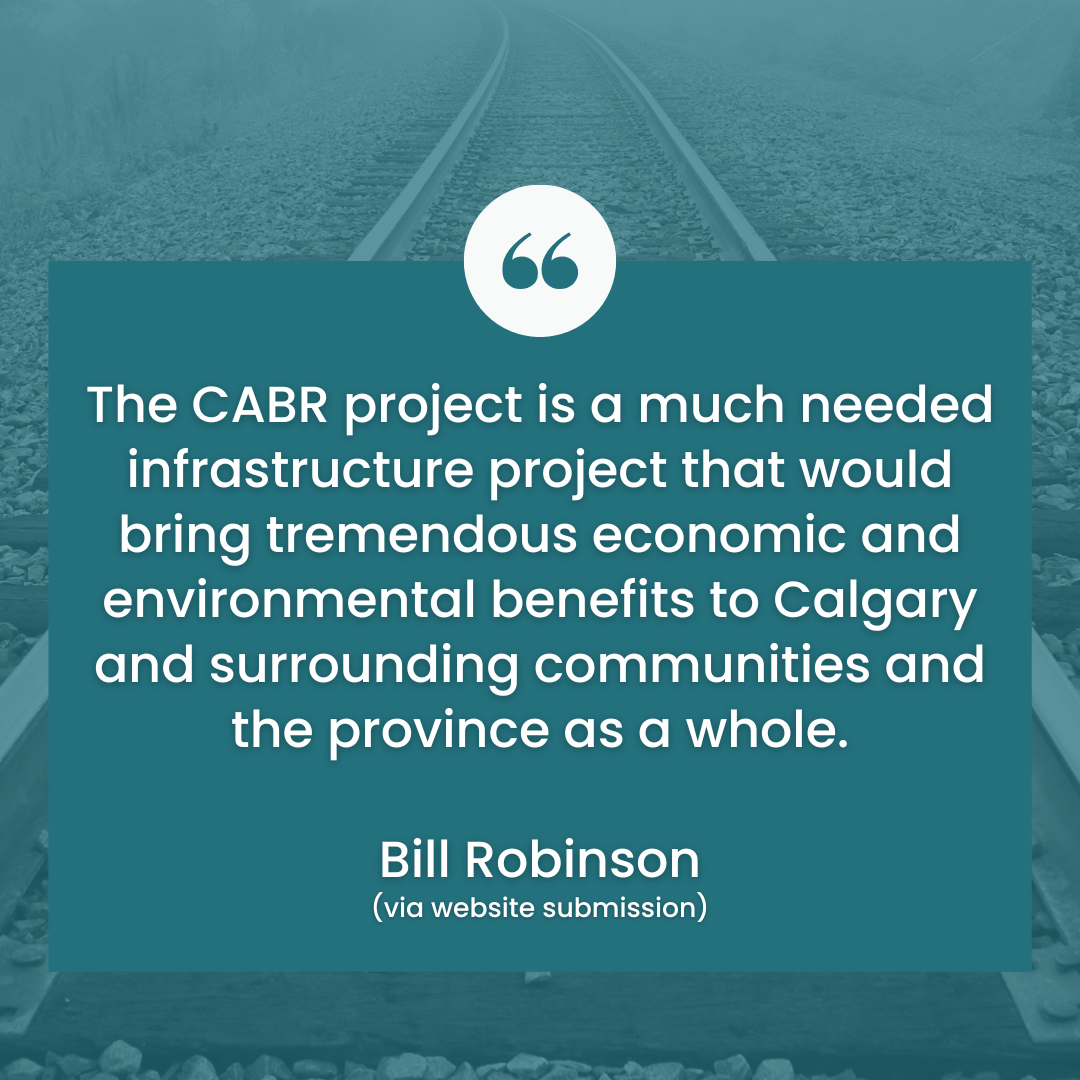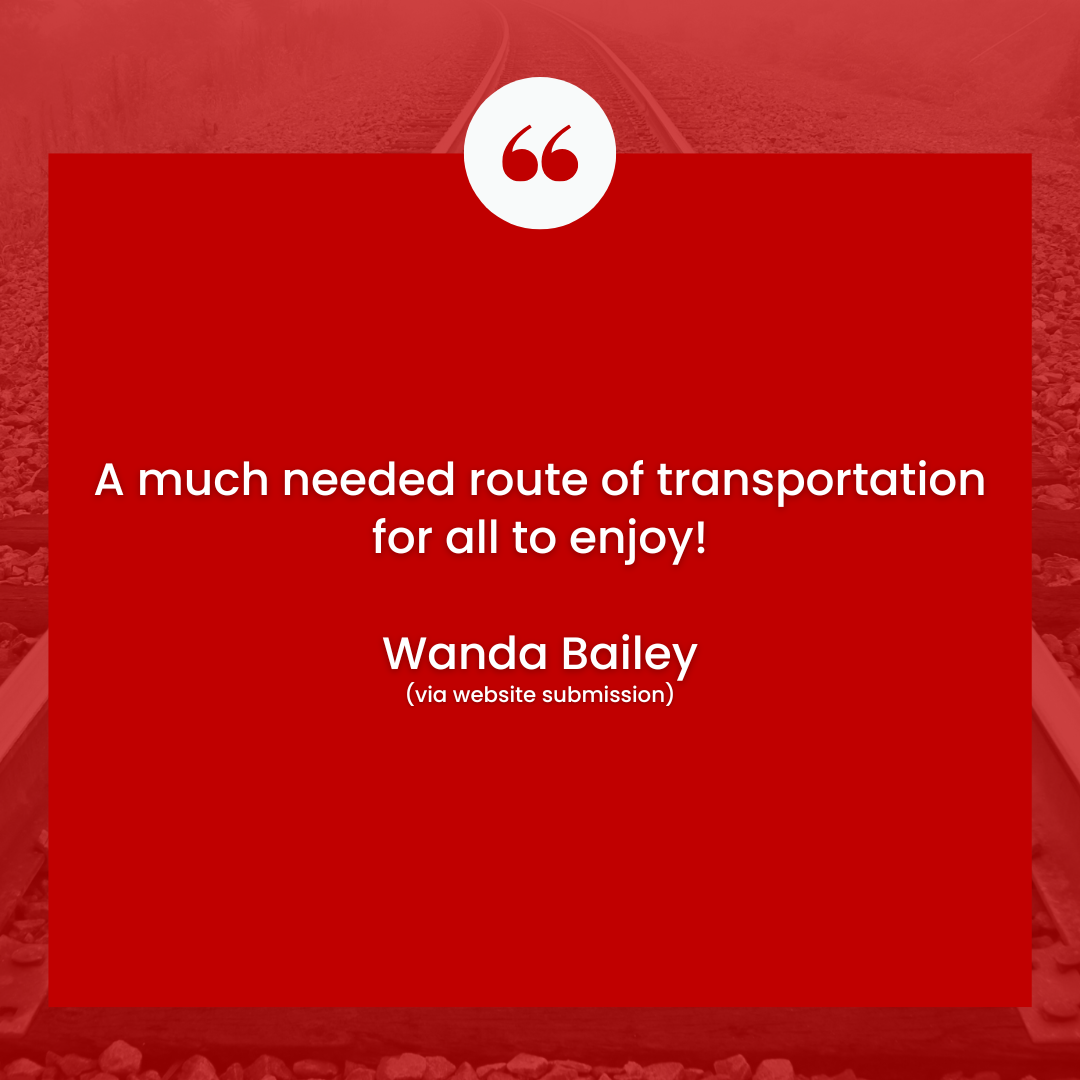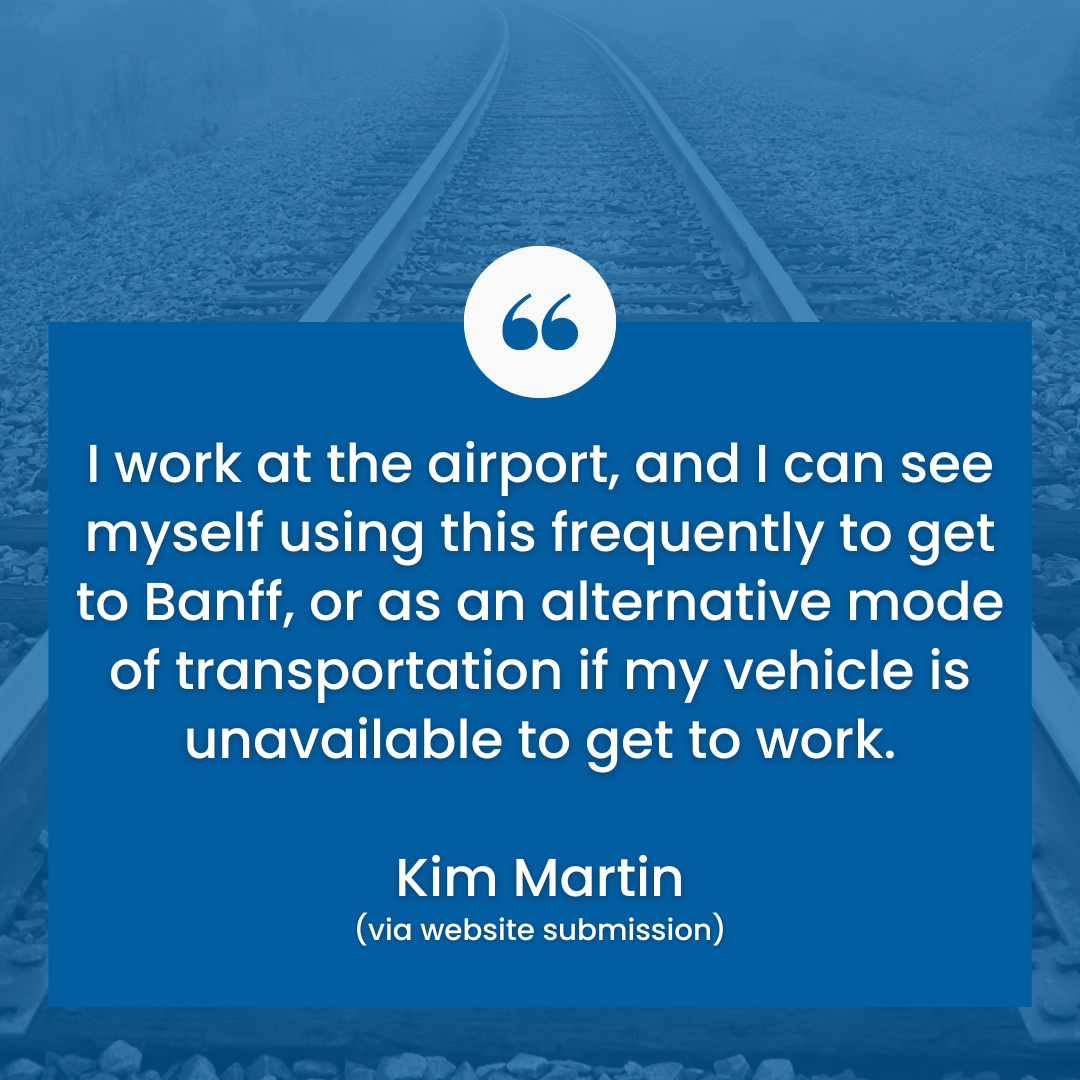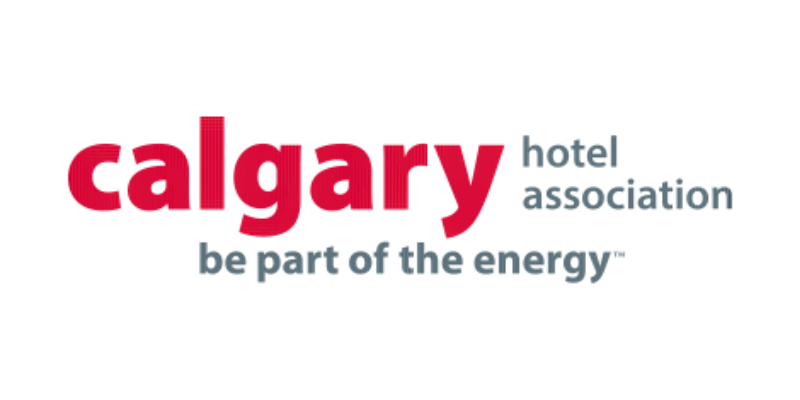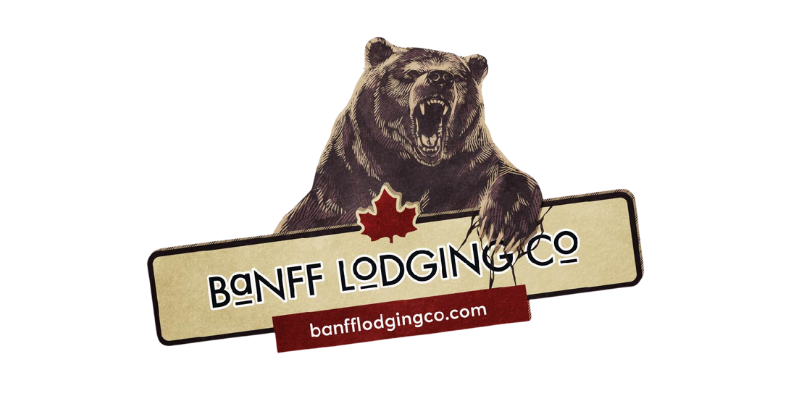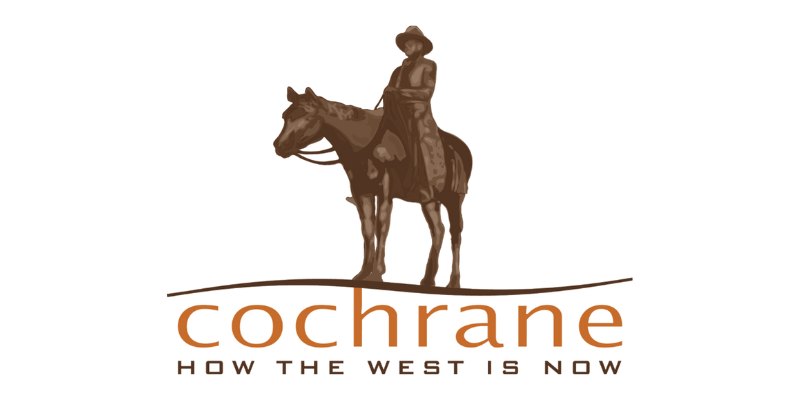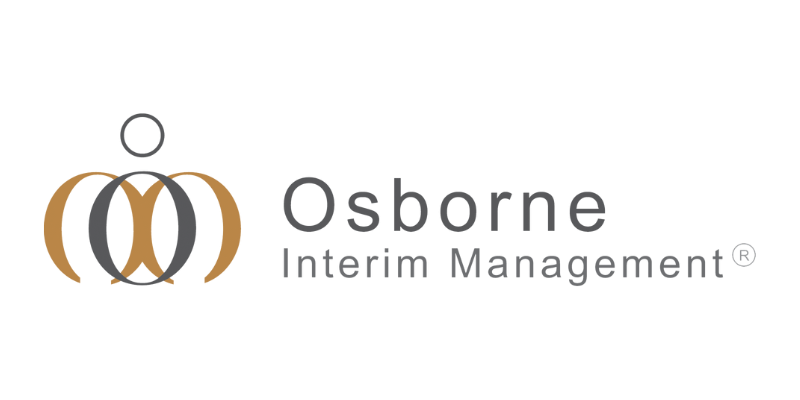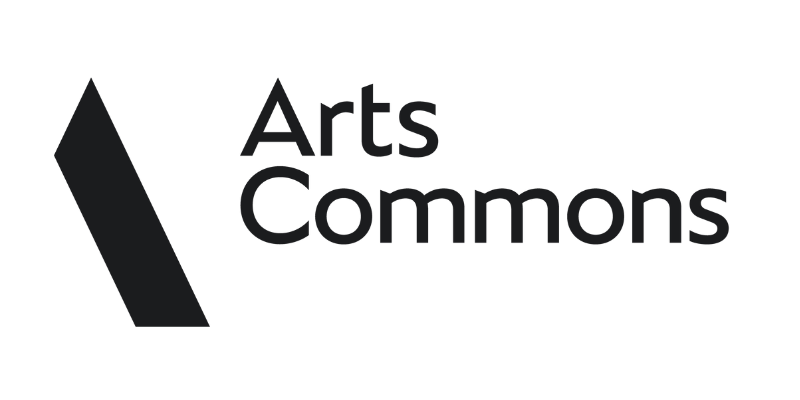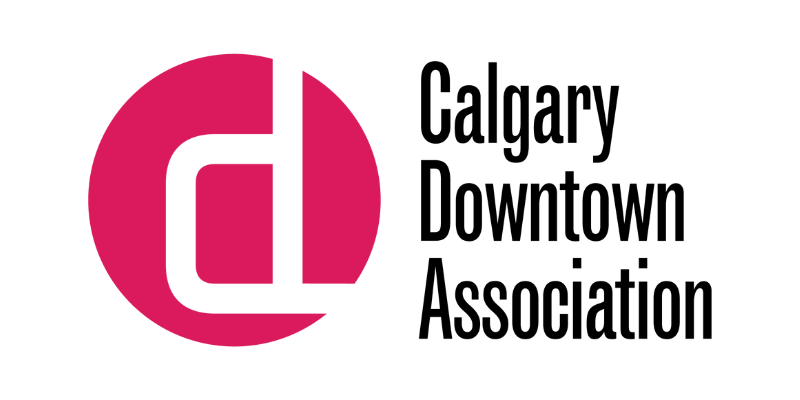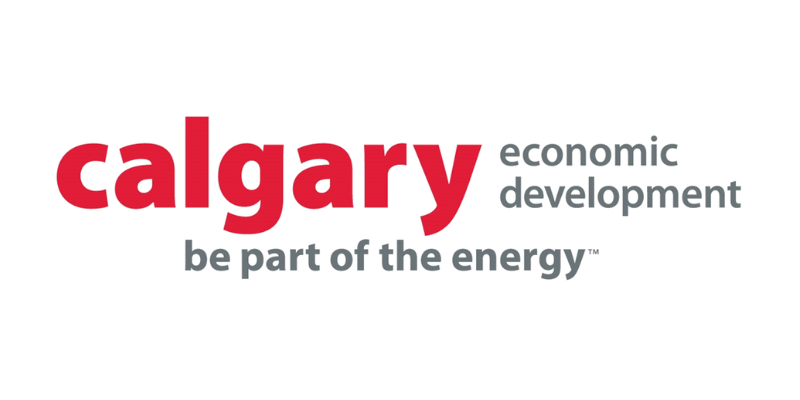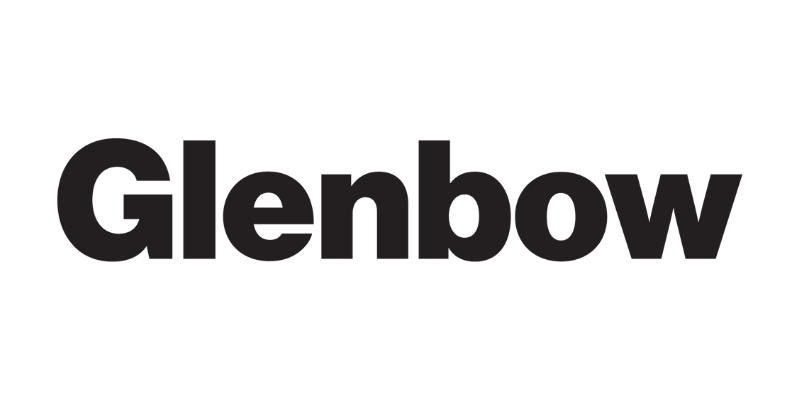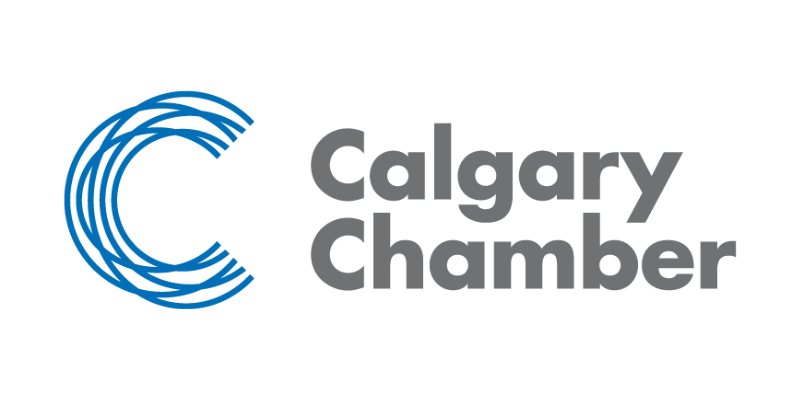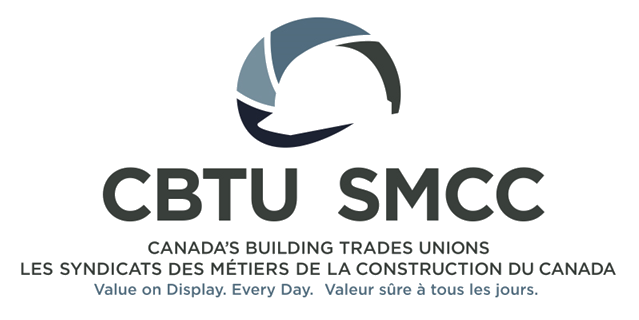 Calgary Hotel Association
Calgary Downtown Association
Calgary Economic Development